Life as we knew it has changed.
States of emergency and now a national emergency have been declared in the United States of America. Professional sports leagues are suspending play. The NCAA has canceled all spring sports. Universities are cancelling classes. School districts are closing across the country meaning 20+ million children are out of school. The largest companies in the world are telling their employees to work from home.
No matter how much you know it's coming, the last couple of days were still a little jarring as the fallout from novel coronavirus COVID-19 sweeps around the globe.
All of these closings and cancellations may seem ominous, but they are the result of people coming together to take collective actions that will save the lives of our most vulnerable. What we are witnessing in real time really is an amazing act of social solidarity: sacrifice, so we can give nurses, doctors and hospitals a fighting chance. That gives me heart, especially in the midst of all this disruption and uncertainty.
The torrent of coronavirus related news breaking every day can feel overwhelming, especially for those of us that have loved ones that are considered among the most vulnerable among us. My guess is there are more of us that share those concerns than we may have realized upon first consideration. Older parents, grandparents, and great-grandparents. But the elevated threat is not limited to the older population. Anyone with serious underlying health concerns are also at higher risk.
To take it a step further, anyone with a depressed immune system or an immune deficiency disease should be considered at higher risk of more serious complications related to COVID-19.
Even people you may never consider being at an elevated level of risk could be temporarily more vulnerable.
Take my five year old daughter as an example. She's currently taking a liquid steroid to help her finally kick a persistent cough she has had for a while. Simply by taking this steroid, her immune system could be depressed because the medicine is doing most of the work as long as she is taking it. Therefore, she could be at a higher level of risk of contracting coronavirus or having more intense symptoms simply by taking steps instructed by her pediatrician.
The bottom line is you do not . . . you cannot . . . know who around you may be more vulnerable than you. And that's the point.
You're either a carrier or a barrier.
If you're concerned for older relatives during during this pandemic, the @WHO recommends the following steps to ensure they are protected without being isolated, stigmatized, left in a position of increased vulnerability or unable to access basic provisions and social care.
Extreme stress has a predictable, physiological impact effect. It makes us narrow our focus. It makes us become our smallest selves. Therefore, it is really important for us to lower our stress, to expand to our larger selves so we can see the bigger picture. I'm not just a person, I'm a family. I'm not just a family, I'm a community. I'm not just an organization, I'm a city. This is not easy. We are hard-wired to take care of ourselves first and it takes a lot of discipline to break out of that box.
Extreme stress can also make you feel helpless and overwhelmed. Anxious and frustrated. The antidote to these feelings is action, or agency. This pandemic presents us with a paradox where "doing something" was actually not going to be helpful and inaction . . . staying home, not going out and panic buying supplies . . . was the answer. These things are starting to happen: school closures, teleworking, telehealth, social distancing. Now it is time for us to take the baton and help within our social circles wherever it is possible to safely do so.
When faced with an extreme situation like war or disaster, we have an opportunity to re-learn what citizenship is all about. The COVID-19 coronavirus is such an opportunity. On an individual basis, there are things large and small that each of us can do to step up, answer the call of this moment, and do what we can to help our families and our communities when they may need it most. When you get so engaged in fear that you can only see what's immediately in front of you, you can begin to feel overwhelmed and effectively self-isolate, assume a defensive position, and withdraw from the world around you. The key is to look up, look for ways to be a helper, and break out of those paralyzing chains of dread and fear.
Turn your frustration and anxiousness into action by engaging you heart and mind and seeing yourself and your family as part of a much bigger community by helping someone else. You can have a hugely massive impact during this time of uncertainty.
We can be part of that solution.
We should all be taking the basic precautions — not just for yourself but for others — to flatten the curve. Wash your hands. Stay home if you do not feel well. Engage in social distancing and do not go to public gatherings. But we can do more.
Here are some things you can do.
Be mindful of those most impacted. Obviously, I am a huge proponent of personal preparedness, but the scenario we are facing right now and for the foreseeable future is precisely why I encourage people to build their supplies over time. This panic buying is nuts. If healthy people buy up all the supplies on the shelf that won't determine life or death for them, those supplies won't be there for the most vulnerable among us that really need them. Those people where life or death could really be in play. If you need to go shopping for supplies, you should do what you have to do. But do not stroll in and buy every package of disinfectant wipes, or toilet paper, or diapers, or bottled water on the shelves. The reality is the just-in-time delivery system that virtually every large store chain relies on is not built to handle that type of buying surge and there will be shortages. Do what you need to do to provide for your family based on your regular shopping pattern, institute a 'plus one' policy on items like canned goods . . . buy what you would normally buy, plus one . . . and go about your day. If you feel you must go shopping, shop locally and help sustain those small businesses in your community.
Stay informed. There is power in information and knowing the facts. That is what I promise to give you, just like always, and I appreciate your trust in me by being here. Yes, the information coming from sources like the CDC, the federal government, and the WHO (World Health Organization) is important, but this is a state and local issue now. Be sure to follow local news, sign up for local government alerts, and talk to your local representatives to help determine the best path forward for your local situation.
Check on elderly neighbors and other members of your social circle that may be impacted or have limitations and volunteer to run errands for them. If someone you know is under quarantine, offer to do their shopping for them and safely drop off their food, or make a quick run to the pharmacy for them to pick up a prescription for them. Again, with safe practices it's much easier and safer for you to make these quick runs than for them to risk it all for basic groceries or monthly medications. Offering to help a friend or family member with child care is admirable, but should be undertaken with caution, following the best safety practices, to prevent spreading the infection.
Don't write off the people most vulnerable to the virus — reach out to them and increase human interaction with technology. During this period of social distancing, isolation could become a huge issue and can have detrimental effects on those impacted by increasing feelings of loneliness, anxiety, and depression. Pick up the phone and call the people in your life that you care about or have a virtual visit. Applications like Apple's FaceTime, Zoom, Skype, or Google Hangouts are wonderful options to have "face to face" interaction with the people closest to you while maintaining your social distancing.
Don't dismiss coronavirus as unimportant because it "only" kills the old and sick. "The CDC has recommended that people over 60 stay home if possible and avoid crowds, and officials note that if you are sick, you should not visit an older adult or someone with a chronic condition that puts them at risk. However, you can always check in on loved ones and community members with a call or video conferencing. "During the outbreak, we can still cultivate our support network online while maintaining social distancing in a physical sense," Cao said." This can be a heartwarming and fun activity. Grandparents, aunts and uncles can read books on video and send them to nieces and nephews who are out of school; conversely, nieces and nephews or grandchildren can put on a skit or show and send it to grandparents or aunts and uncles who may not be able to leave the house. Just think of all of the "entertainment producers" that will be created across the country, young and old!
Across the country, classes have been cancelled for 20+ million school age children. Food security is a very serious issue right now for millions of Americans. About 5 million students are food insecure and rely on school meals. In some cases, these school meals are their only meals of the day. Thankfully, school districts across the country are taking steps to insure that these meals will still be available to those who need them. For example, this is how one of our local districts is tackling the problem:
Donate to food banks to help those with no personal "surge capacity" in their finances, or "adopt" a family to help them make it through the month. Lots of organizations, such as food banks and social services groups, offer direct help for people in need and may be one of the first places people turn if they are hurt economically by the virus. These organizations offer help without regard to people's religious affiliations. Vendors for events that have been cancelled like RodeoHouston in Texas are making major donations of food that they will no longer be needing to nonprofits and food banks to get it into the hands of people that can really use it.
Structure your day. Get up and get started just like you would any other day to help keep you in the right head space. Be sure to build periods of time into your daily schedule for exercise and periods of mindfulness or meditation to push back against the worry and stress of the larger social situation we are all facing. It's okay to embrace enjoyable distractions too. Television, movies, music, reading are all good options.

Get out into nature and go for walks. Spend some time outside around your home gardening or simply enjoying the wildlife that's everywhere around you that you may not normally take the time to notice. This is a REALLY good time to reconnect with nature in a way that we normally wouldn't because we haven't slowed down.
Initiate book or game swaps with your neighbors. After a few days of being home, the family entertainment you have on hand could start to get a little old. I mean, I love Candyland, but I have to admit that sometimes a change can do you good. While observing the best safety practices, organize within your neighborhood to exchange books or board games to help shorten the days that can grow long with young ones home from school.
Donate money. Like I mentioned before, your local food bank is always a good place to make financial donations, but there are many more options out there that you can take that will have an immediate benefit for those in need. For the first time in its history, the @WHO has created a fund that you, your friends, or your business can donate to in the fight against the COVID-19 pandemic. Your modest monies can make a difference. To give to the COVID-19 Solidarity Response Fund, go to http://who.int and look for the orange "Donate" button at the top of the page.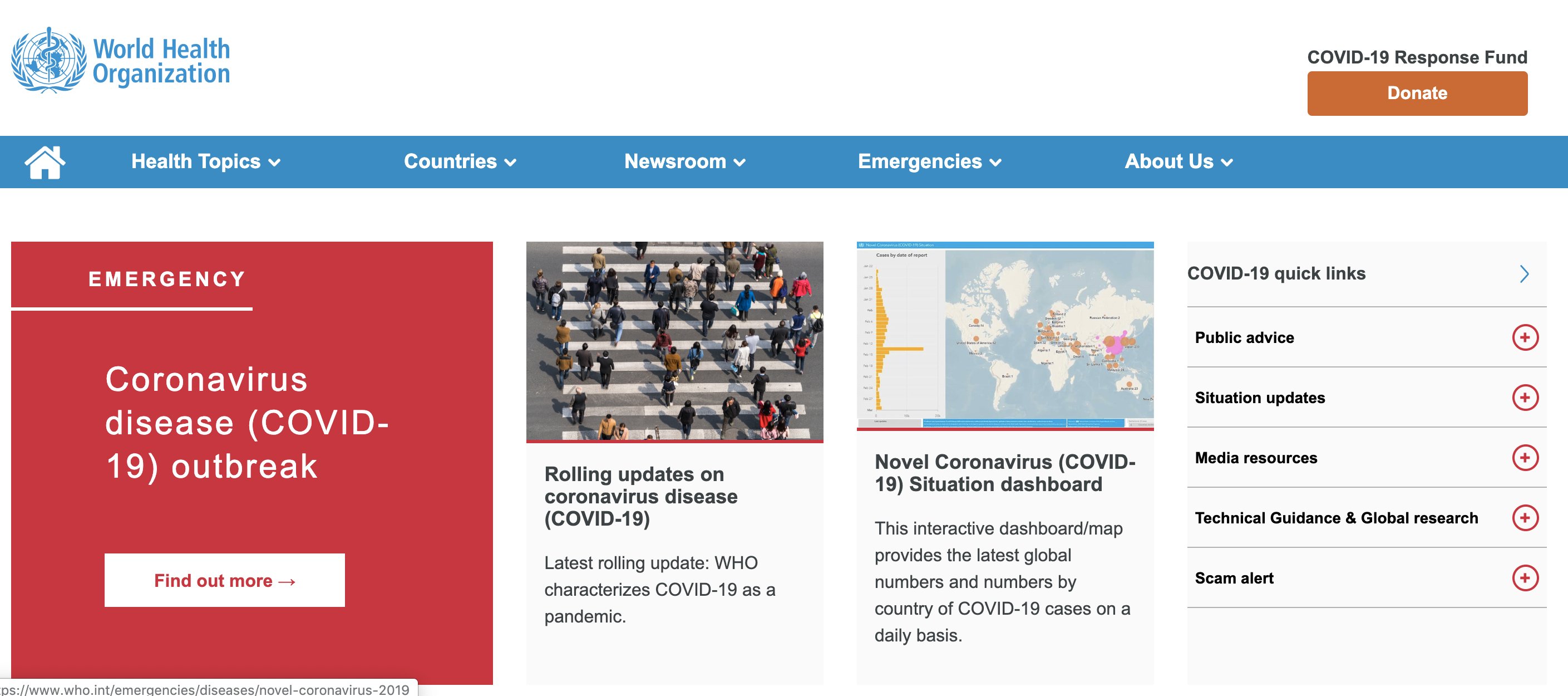 Reach out! Reach out on a personal level to your friends and family, as well as to society as a whole through social media. When you discover a new way to help someone out or you see good works by others, amplify those images and flood our social platforms with positivity to drive the focus and discussion in a different direction.
Donate blood. A good habit to maintain at any time, donating blood can really make a difference during an emergency.
Don't join in racism and xenophobia. Since the identification of the COVID-19 coronavirus in China, Chinese people in Asia and Asian people around the world say they've been treated with suspicion since the virus made international headlines. The World Health Organization has recommended against any travel or trade restrictions in response to the outbreak. "Although travel restrictions may intuitively seem like the right thing to do, this is not something that WHO usually recommends," said Tarik Jašarević, a WHO spokesperson. Experts have said travel bans could lead to a slew of downstream effects and risk complicating the public health response. When political representatives refer to this novel coronavirus as the "Wuhan flu" instead of the official name signals that such actions are acceptable. We can do better than that. Those notions trickle down to street level. In our communities and cities, the harassment of Chinese people, or anyone that appears to be Asian, simply because COVID-19 is now in the States is unnecessary, counterproductive, and just a jerk move. Don't be that person.
The COVID-19 coronavirus is here and the impacts of our response to it are going to be with us for a while. Socially things are going to be different for as long as is necessary to slow the spread of the virus, but that does not mean our lives are going to come to a halt. We will eventually get beyond this outbreak, but we will only get there together. In the meantime, let's take the action steps that we can and rise to meet the challenge of this moment. Together.
COVID-19 is going to change us. It already is.
COVID19 is going to force system change. It already is.
COVID19 is going to be ruthless and brutal. It already is.
The question is how, and what, are WE going to be?
Hits: 839